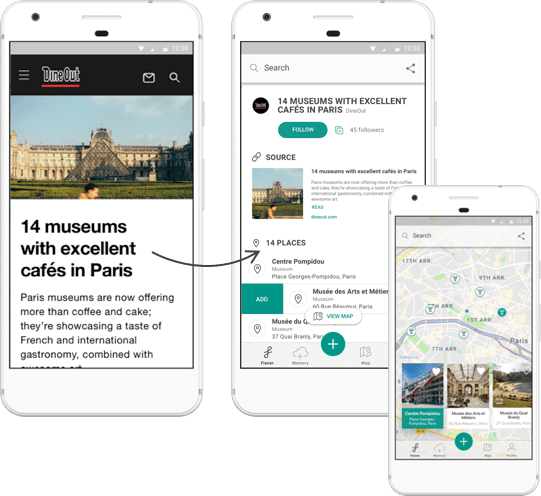 Create maps & Placelists as easy as sharing
Flaner transforms your content into maps and Placelists automatically through AI and Machine learning technology.
VIEW SAMPLE
Monetize & Enrich your content
Embed maps and placecards to deliver up-to-date information to users & include affiliate links to optimize your revenue.
VIEW SAMPLE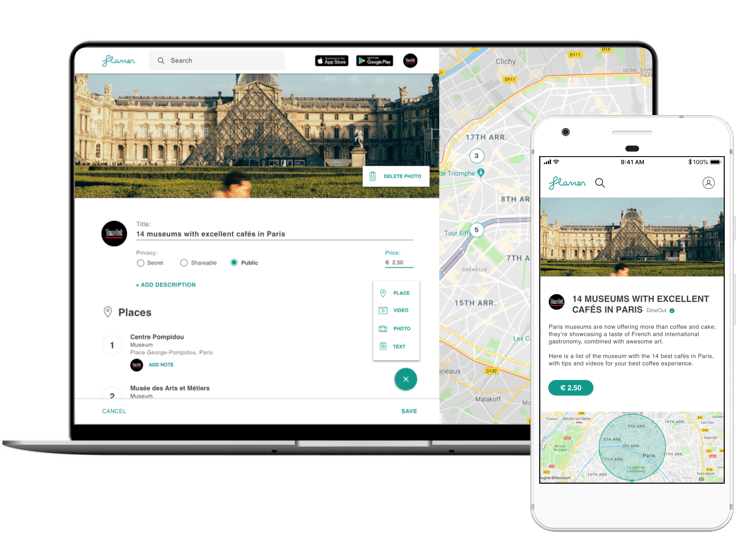 Drive revenue with Flaneries
Deliver value to travelers via mobile-ready customized guides and itineraries based on the content you already have. No coding needed.
Become a Partner
Take your travel content to the next level
Optimize your time, create new travel products, and deliver value to travelers. Join our VIP Partner Program to get access to exclusive features and our team of experts that will help you to make the most of your content and Flaner technology.
APPLY NOW
Frequently Asked Questions
What is the cost to use Flaner VIP?
We are offering free early access to Flaner VIP for a limited number of users. If you are reading this, you are part of the lucky ones!
Is it difficult to transform my travel content into a map, a Placelist or a Flanerie?
The process to get places from your content takes about 1 minute (yes, you read it right!). All you need to do is share the link with Flaner app or paste the link on your profile page.
Is Flaner avaliable everywhere?
Flaner is available globally with places from all over the world for you to add to your Placelists, Flaneries, and use in Placecards.
The automation to create maps and Placelists is currently optimized for travel content about France and Portugal.
What is the benefit of using Flaner Placecards?
The place information will be updated automatically and, you'll be able to integrate your affiliate links seamlessly. Any changes can be made remotely with no need to touch your content page.
Can Flaner get places automatically from other maps or a video?
Yes! Our team can adjust Flaner technology to get places automatically from Google MyMaps and YouTube videos. Become a Partner to have access to this and other exclusive tools. Reach us at vip@flaner.com.
What is a Flanerie?
Customize, add video, text, and pictures to your Placelists to transform them into Flaneries, a beautiful travel product that can be bought by your readers and other travelers.
What is the payment model for Flaneries?
At the moment Flaneries are available only for Flaner Partners. Reach us at vip@flaner.com for more info.
START FREE TRIAL